FNU's vision towards UIMS - an integrated information system
The purpose of this project is to fulfil the vision of the university using the adapted UIMS project ethos.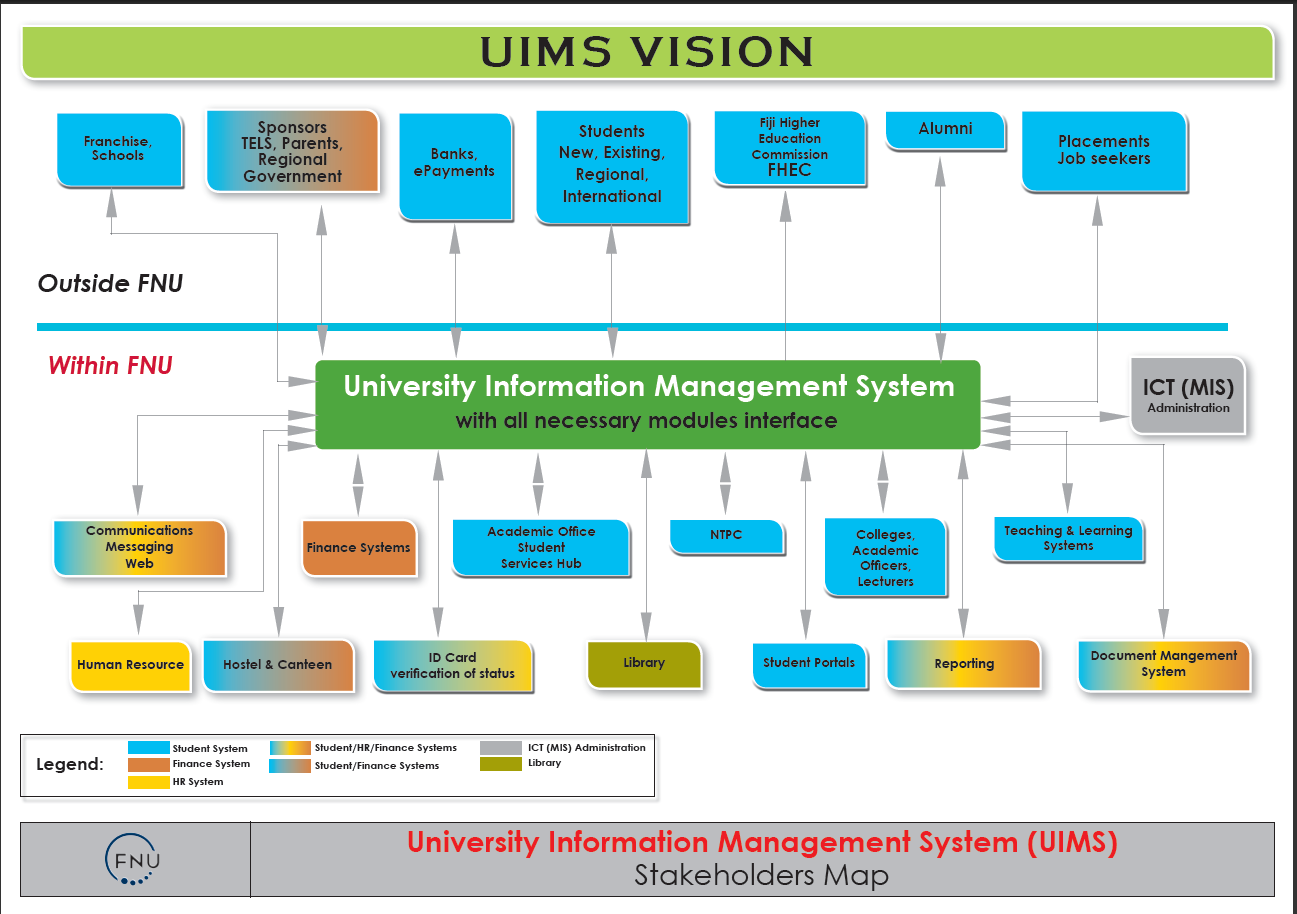 While the UIMS vision of the University as envisioned by Director ICT is very optimistic to have a single platform that does everything required by the University, it is important for everyone to accept that Banner or say any specific application alone does not provide that as FNU is unique in its operations. In this project, Ellucian together with Cornerstone, Adirondack, JAMS and Argos are the major players gelling their applications seamlessly to provide FNU with what has been agreed as per the scope of works document while Ellucian being the primary point of contact.

The project implementation team uses SWOT analysis as its strategic tool to ensure overall university experience relating to how the new platform can be improved to reap maximum benefit out of this investment.

The University is currently using some of the best systems, however its weaknesses are that it operates in a silo environment. It does however give the project team a baseline to compare Banner configuration. Where the project team identifies that the Banner system configuration is weaker than current setup and especially when Banner restricts such customisations, the functional teams work with the technical teams to apply their knowledge from existing systems to turn such weakness into strength by writing custom scripts that improve the overall value from the system.

This project also provides opportunity to relook at FNU's processes and see how it fits into Banner. Sometimes, FNU's processes do not fit into Banner directly and FNU relooks at its own processes. The best approach is to take the opportunity to review the process and align it to what Banner provides as it is an industry accepted process. While the project team ensures that policies are strongly complied with in the new configurations, the functional teams decide on how rigid they would like to enforce the policies. Where there are opportunities to improve our processes and the policies do not allow, proposals are written by functional teams and taken to management for amendments to such policies.

The entire project team is comprised of several smaller working teams who collaborate with common objective.