UIMS Ethos
The project teams underlying common ethos as adapted from Western Sydney University and refined by the Director ICT for the university is as follows: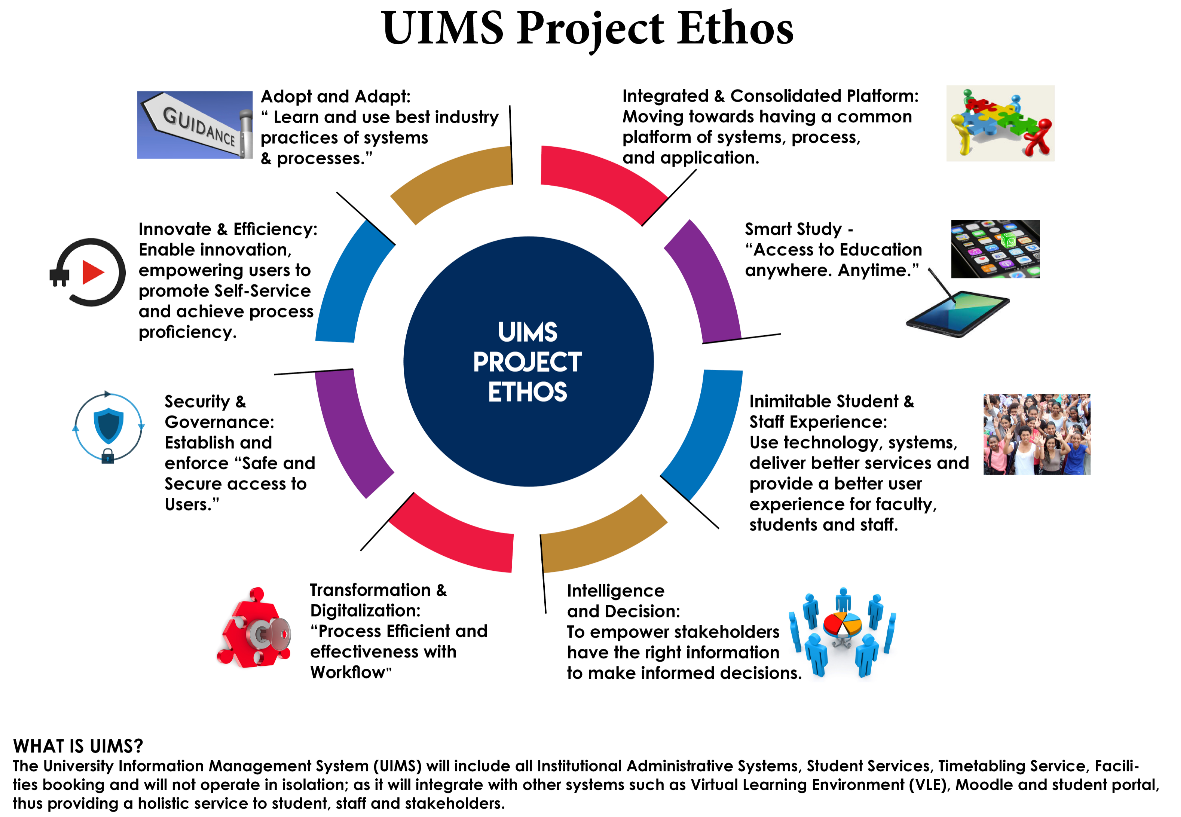 Adopt and Adapt
Where FNU's processes does not align directly to Banner, the team tries to adapt Banner specific process. This ensures minimum code customization's and will protect University from future liability of code management when it relates to patch management and upgrades.
Innovate and Efficiency
Empower functional users to customise their processes without involving ICT and empowering end users to perform most of the activities themselves instead of relying on administration and support staff. This will ensure efficiency in processes and will overall improve the value of service provided to the stakeholders.
Security and Governance
Having all the data at one location also opens the risk of compromising everything with a compromised account. With role-based access, users will only be authorised to access what their role requires. The application also provides secure single sign on access to ensure user's do not have to sign again and again when browsing within and between applications.
Transformation and Digitization
It is an opportunity to align automation to other digital transformation journey of FNU for example implementing workflows for automated user account creation, assigning office 365 licenses and much more that currently is a cumbersome manual process.
Intelligence and Decision
To configure the system allowing users to make informed decision based on up-to-date reports which can be generated on the fly by the management and other authorised users. Certain types of reports can also be made available for external stakeholders such as the FHEC to be generated whenever required.
Inimitable Student and Staff Experience
To configure the system to provide staff and students access to self-service functionality allowing everyone to access services anywhere anytime through any internet enabled smart device.
Smart Study
To configure the system providing access to education anywhere anytime with automated access to course materials upon valid registration. A single mobile app that will allow access to self service as well as course materials from Moodle.
Integrated and Consolidated Platform
By implementing Ellucian Ethos, any system that allows integration can be integrated with Banner. During the first phase, Banner together with Adirondack and Talent Management will be linked together. Then, it will also be integrated with Moodle. In later phase, it will also integrate with the Library system and any other system deemed necessary by the university.
Overall, the UIMS project Ethos provides guideline to the project team regarding non-functional expectations from the new system.